DEEP CLEANSING CAVEMAN CLEANER
3-In-1 Hair, Face & Body Cleaner
Size: 400ml
Size:
400ml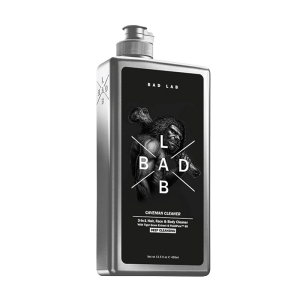 Active Ingredients: Fluidipure™8G, Tiger Grass, Charcoal
Description
All-in-one deep cleanser for hair, face and body with charcoal, tiger grass extract and FluidiPure™ 8G. This dirt-destroyer wastes no time getting you out of the shower and back in the wild where adventure lies. Carpe Diem.
Ingredients
Fluidipure™ 8G

Fluidipure 8G helps form a protective layer to prevent odour bacteria & restore skin natural acidic pH thus keeping your Skin Odourless & healthier.

Tiger Grass

Tiger Grass contains "triterpenoids" that acts as stimulant to boost skin cell & collagen production. Thus, keeping your skin hydrates & firmer.

Charcoal

Charcoal made from bamboo plants carries sponge-like structure to draw out and trap dirt, sebum & dead-skin from skin pores for better skin cleaning during your shower, keeping your skin Clean & Healthy.